2000-2010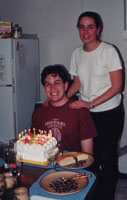 On January 1, 2000, I was in Florida, with Liz and her family. We'd only been back from our year in Europe – her in England, me in various parts of Germany – a few months, and I was still adapting. When it turned out that Y2K didn't kill us all, we went back to Cleveland, and finished our program at Case Western.
That summer, Liz moved to Wisconsin to start her PhD in Astronomy, and I moved to Columbus, where I entered the masters program in Journalism & Communication. I also got a job – one of those life- or, at least, career-altering jobs – in the Web department at the Columbus Dispatch. When I started, it was four of us in a closet; by the time I left, two years later, we had moved out of the closet, acquired a full-time designer, majorly overhauled the main site, and began work on a sister site.
I was in Kansas City, visiting my parents, on September 11, 2001. I was actually supposed to fly back to Columbus that afternoon, but that morning I was watching Braveheart on DVD, when my mom phoned and told me to switch over to the news. A few months later, Liz and I got engaged.
In 2002, my cousin died. Christina and I shared our birthdays – she's the only person I'd ever known with my exact birthday. Her car stalled out on some railroad tracks and an oncoming train killed her and her boyfriend. It was such a freak thing – it nearly devastated my aunt – and, for me, it was a sharp reminder that life can be too short sometimes. I finished my master's program as fast as I could, Liz and I got married, and I moved to Wisconsin. Note: I seem to have my cousins confused.
I had trouble finding work in Madison, and spent almost 10 months unemployed. I spent a few weeks as a freelance developer at a failing local startup, but the cheques started bouncing, so I left. I also spent a month or two temping, filing paperwork by day, and nursing my many paper-cuts by night. I finally got a job as a webmaster at Ultratec – they make communication devices for the deaf & hard-of-hearing.
2004 was the first year this decade that both of us manage to stay put at the same address for the entire year.
In 2005, Liz finished her PhD, and got a job in Canada, so we loaded up a truck and moved to Mississauga – the "exurbs", roughly half-way between her job in Hamilton, and the big city life in Toronto. I started my own small company, Ye Olde Web Shoppe, and worked on a variety of little web projects. We went to GenCon for the first time, and met a wonderful group of new friends.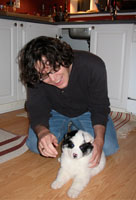 2006 was the last year in which we didn't move houses, change cities or immigrate to other countries. We got a dog, Badger.
In 2007, Liz's contract at McMaster ran out, and we moved to the Netherlands. We rented a little old house just outside the city center, and starting learning om Nederlands te spreken. We went to Spiel for the first time, and discovered how much we like Scotland.
We moved again in 2008 – still in Utrecht, but to a larger house, a little further outside the city. We got a quieter neighborhood, and spent more time biking than we had in the old place. We finally got to see Ireland and Spain.
Liz's contract with Utrecht ran out in 2009, and I got a job at Unspace, so we moved to Toronto – not the exurbs, this time, but to the city proper.
Unfortunately, Toronto wasn't working out so well for us. The population density was driving Badger nuts ("What do you mean I can't herd those sheep? What do you mean they aren't sheep?"), and Liz wanted to be somewhere greener.
So, this past July, we moved again, to Ottawa this time. I'm now working at – and loving – Shopify.
The last few weeks of 2010 have been rough – my aunt Cindy passed away, my Dad fell off a ladder and broke his pelvis in three places, and Liz was rushed into a discectomy 8 days before Christmas.
So, maybe these weren't the holiday plans we started with, but still, things are looking good: my Dad is going to be fine, and Liz's recovery is proceeding faster than we had hoped.
And, with a little luck, I'm hoping we get to spend most of the next decade in one place for a change.
Permalink • Posted in: year-in-review